EDCOE Child Development Programs Educate Generations
00:00 AM - February 15, 2017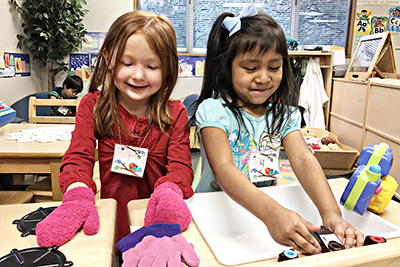 The El Dorado County Office of Education's (EDCOE) Child Development Programs provide high-quality, early child care to students in El Dorado County generation after generation. Head Start Teacher, Sandee Bangs, and Classroom Assistant II, Sandy Maggard, have worked in the program located at Schnell School for decades and have become part of their students' families. "Past students return to our preschool program with their children, and one of the parents even honored us by naming her little girl Sandra" said Sandee.
Sandy echoed, "I've taught some of these students' parents. It makes a big impact on their lives to receive continual support. This program means a lot to me personally because my children and grandchildren also began in Head Start. When my children were this young, the program was there for me as a parent."
Entering their classroom is like walking into a concert of orchestrated excitement as two people conduct a half-dozen groups of children participating in various activities. Students, ages three to five years, strengthen their social and cognitive skills while pretending to be co-chefs in the play kitchen, trying on clothes for dress-up, reading books in a small library covered in family photos, making castles out of magnetic blocks, pretending to take photos with a play camera, and much more. Students are taught to be polite to one another, share, and clean up when finished with their activity. During circle time, an animated Sandee leads the group in exercises such as sing-a-longs, storytelling, and star-gazing at the ceiling which becomes the night sky filled with white lights from a projector. "We like to stimulate a higher level of thinking by asking the group open-ended questions and engaging them in everything we do," Sandee noted.
Each month is defined by a subject, and January was winter. At the beginning of the month, the library was filled with books concentrated on the season, and students were given a tub filled with fake snow to explore. Sandee explained that they integrate science into the classroom in different ways. "We have a sensory of the month. This fake snow is made of a plastic polymer and feels smooth to the touch," she says as students scoop the snow into cups and giggle while watching it fall gently down. In table groups, students illustrate storms by creating construction paper clouds decorated in paper rain drops.
While Sandee continues to captivate the children, Sandy efficiently prepares a complete, balanced meal that the students will enjoy family-style, for lunch. Their nutrition program is enhanced by Farm to Preschool, Harvest of the Month, and more. Children are introduced to new foods through activities like taste tests, and local farmers donate their goods for students to experience. "Our community is incredibly generous, and we could not be more thankful. Last year, Delfino Family Farm donated a significant amount of apple cider to the class. We even had enough to send much of it home with parents for the entire family to enjoy. Bringing in things from the outside exposes them to the environment and broadens their horizons."
"The first years of a child's development create a pivotal, educational foundation that will determine that student's trajectory in life," County Superintendent of Schools, Dr. Ed Manansala, stated. "Our Child Development team members connect with our students on a fundamental level and positively impact their entire lives. I am proud of their dedication to these critical programs, our families, and community."
Mary Viegas, the Executive Director of EDCOE Child Development Programs, explained, "The EDCOE Child Development Programs – like Head Start, Early Head Start, and State Preschool, use researched-based curriculum and assessments that support the best environment and instructional strategies for early learning. Our teachers and instructional staff make the difference! Teachers are highly qualified professionals who ensure children's experiences in our programs foster school readiness and the social skills needed to succeed. Some enrollment slots are still available for eligible children, call 530-295-2270 for more information."