Click here for more information,...
Apply for the Edna Miller Continuing Education Scholarship 2017
00:00 AM - January 30, 2017
The purpose of this scholarship is to assist women who are actively pursuing the goal of a career in education. This goal must be either an initial educational credential or an additional credential/degree. This scholarship is only intended for nonmembers of The Delta Kappa Gamma Society International. Applicants may reapply each year. The amount of the 2017 scholarship is $500. Please postmark application by April 20, 2017.
The application can be found here >>
Youth Commissioners Join County Supervisors for Annual Shadow Day
00:00 AM - January 26, 2017
On Tuesday, January 24, the El Dorado County Youth Commission participated in the annual Shadow Day, where the Youth Commissioners joined the County Board of Supervisors during one of the Board's regularly scheduled meetings. The students gained valuable insight into how local government operates, how the Board manages issues and policies, and how to run a formal meeting. Misbah Shafi, Youth Commission Chair and a senior at Oak Ridge High School, stated, "It was a great learning experience! We are very appreciative of our Board of Supervisors and the El...
$1,000 Donation Provides Lunches to Rescue Students
00:00 AM - January 09, 2017
Many students and families at Rescue Union School District (RUSD) received more than presents for Christmas this year when a generous community member donated $1,000 to pay off all outstanding lunch accounts. Balances totaled $766.49 district-wide, and the difference will help to reduce accounts for those students who are unable to pay regularly. "This unexpected gift is one of the many reasons our students are well taken care of at Rescue schools – the community truly cares," District Superintendent David...
Toys for Tots brings Christmas to Children in Need
00:00 AM - December 21, 2016
The weekend before Christmas, volunteers from the El Dorado County Sheriff's Office, Explorers, STARs, Placerville CHP, Police Department, Kiwanis, EDCOE, and school districts sorted more than 20,000 toys and created a massive Santa's Workshop for more than 1,000 families in need. Toys were collected in large Toys for Tots bins placed throughout the County, and generous community members filled them to the brim with new toys for all ages. This collaborative effort ensured that thousands of children will...
Students Earn College Credit at EDCOE Charter Alternative Programs
00:00 AM - December 15, 2016
The El Dorado County Office of Education Charter Alternative Programs have launched a special college and career readiness program that provides the opportunity for Charter students to enroll in college courses while still completing their high school diploma. The program, which is offered in partnership with the Folsom Lake College El Dorado Center, allows the Charter students to take community college courses concurrently during high school while earning both college and high school credits.
"We are in...
Charter University Prep presents "Treasure Island"
00:00 AM - December 08, 2016
Performances: Thursday, December 8, Friday, December 9, and Saturday, December 10
The Charter University Prep Drama Department is excited to present the timeless story Treasure Island, adapted by Ken Ludwig from Robert Louis Stevenson's classic novel. We invite you to support our students by attending performances Thursday and Friday, December 8 and 9 at 7 p.m., or a special matinee on Saturday, December 10 at 5 p.m. Performances will take place in the gym at the Charles Brown Campus, 6520 Oak Dell Road,...
The EDCOE Coat Drive Keeps Children Warm
00:00 AM - November 29, 2016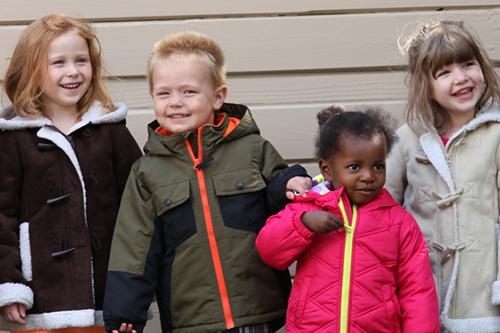 Every year, the EDCOE Coat Drive collects donations and distributes them throughout the County to children in need. Schools and county-wide programs assist in obtaining requests for sizes and distributing the coats. This year, 114 children will stay nice and warm because of the generosity of EDCOE team members and community members. Thank you to everyone who donated!
CHSA's Craft Faire Turns Students into Entrepreneurs
00:00 AM - November 28, 2016
The Charter Home Study Academy (CHSA) multipurpose room was filled with eager customers traveling from booth to booth and purchasing homemade creations from student business owners. November 17 was the 19th Annual Craft Faire, where transitional kindergarten through eighth-grade students sold holiday decorations, bracelets, paintings, apple cider, food, and more. The project exemplifies CHSA's mission, which emphasizes empowering students by building foundational skills and then applying those skills in ways that make learning engaging, relevant, and fun.
"Students gain valuable...
Students in Need Receive Clothes through Operation School Bell
00:00 AM - November 14, 2016
On a recent brisk, clear, October Saturday morning, 80 students shopped for warm, comfortable, school appropriate clothing at the El Dorado Hills Target. Parents and grandparents were very appreciative of Operation School Bell – a program made possible by the Assistance League of Sierra Foothills. One grandmother brought both of her elementary school grandchildren who were able to choose coats for the upcoming winter season. "Programs like this make such a difference in the lives of these children,"...
El Dorado High School Grad Becomes Eagle Scout
00:00 AM - November 03, 2016
Kyle Konetchy belongs to Troop 170 from Pollock Pines and became an Eagle Scout at his Court of Honor on Saturday, October 29. The First Church of Christ, Scientist in Placerville was filled with supportive loved ones, community members, and Scouts from every generation. The ceremony lasted for one hour and was directed by the troop's Scoutmaster, Matt Werts, and Master of Ceremonies, Eagle Scout, William Kinser. Many people spoke of Kyle's dedication to the organization and passion for...
Georgetown Students Experience Healthy Living with Experts
00:00 AM - October 24, 2016
Several dozen fifth and sixth-grade students made the trip from Georgetown to visit the Sherwood Demonstration Garden and Wakamatsu Tea and Silk Colony Farm in Placerville for a day of unique healthy living lessons. At the Demonstration Garden, children learned about native plants, crushed grapes with their hands, and took interesting pictures to express themselves in a PhotoVoice project. The trip was facilitated by teacher, Annie Brown, and Monica Drazba of U.C. Cal Fresh. "It is great for them to...
Placerville Kiwanis Club Installs New Leadership
00:00 AM - October 20, 2016
The Kiwanis Club of Placerville is pleased to announce the installation of new officers for the 2016-17 school year. These community leaders help to mobilize volunteers from the Club's 70 members to produce a variety of projects and events that benefit the children of El Dorado County. Incoming President Carl Hagen remarked at the installation dinner, "We are appreciative of those who have served during the past year and look forward to what we will accomplish together in the future."

...
El Dorado County Students Run For The Gold!
00:00 AM - October 05, 2016
Over 200 students from across El Dorado County ran 1K/2K/5K races on Saturday, September 26, during the Run for the Gold! – a fundraising race benefitting the Boys and Girls Club Western Slope. Students in grades 1-8 traversed courses on Union Mine High School's picturesque campus and were applauded by the audience at the finish line.
Every student who completed the course received a gold medal. AnnaKate Allen, Silva Valley Elementary School first-grader expressed, "This is my first gold...
Students Travel Back in Time on Mini Miners' Days
00:00 AM - October 03, 2016
The 2016 World Gold Panning Championships was a week-long celebration of El Dorado County history and culture, as more than 400 contestants from 21 different countries competed at the Fairgrounds. One of the hallmark events was on Monday and Tuesday for Mini Miners' Days, where almost 1,500 4th-grade students from across El Dorado County visited the competition site. "Good morning. My name is Dr. Ed Manansala, County Superintendent of Schools, and...
EDCOE Preschool Opens at Sutter's Mill Elementary School
00:00 AM - September 28, 2016
The beginning of this school year brought many new and exciting things to El Dorado County, including a new State Preschool. The preschool program is administered by the Child Development Program at El Dorado County Office of Education (EDCOE) and is located at Sutter's Mill Elementary School near Lotus. Mary Viegas, Executive Director of EDCOE Child Development Programs, facilitated the installation and explained, "Increased parent interest prompted EDCOE's Child Development...
El Dorado County Reads for the Record
00:00 AM - September 26, 2016
El Dorado County will once again participate in the Read for the Record campaign on Thursday, October 27. Children in preschool, transitional kindergarten and kindergarten will read The Bear Ate Your Sandwich by Julia Sarcone-Roach, as part of the world's largest shared reading experience. The book is a classic tale of a bear's epic journey and the mystery surrounding one delicious sandwich! Books will be placed in the hands of many children across the country, and adults are encouraged to join the...
El Dorado Smiles Dental Van Coming to a School Near You
00:00 AM - September 23, 2016
Written By: El Dorado County Health and Human Services Agency
El Dorado County is celebrating the arrival of the El Dorado Smiles Dental Van to local schools. The dental van will provide comprehensive dental care at school sites, with a primary focus on children ages zero through 18. The dental van will be operated by the El Dorado Community Health Centers as part of their recently expanded dental health services, and is supported collaboratively by El Dorado...
EDCOE Honored with Patriot Awards
00:00 AM - August 18, 2016

Written by EDCOE Leadership and Communications Intern Devin Johnson
The National Guard recently presented Patriot Awards to EDCOE and two Child Development Program supervisors for going above and beyond to support an employee whose husband serves in the National Guard Reserve. Any member of the National Guard, Reserve, or the spouse of a member may nominate an employer who has provided guidance, commitment, and support to them or their family. EDCOE, Assistant Director of Child Development Programs Gail Healy, and Disabilities/Mental Health...
Run for the Gold Registration Now Open!
00:00 AM - August 15, 2016
The Boys & Girls Club Western Slope and EDCOE proudly present the second annual Run for the Gold on Saturday, September 24, at Union Mine High School. This 1K/2K/5K run/walk is professionally chipped and free to all El Dorado County 1st through 8th-grade students. All student runners will receive a race t-shirt, runner bag, professionally chipped runner bib, and medal.
Event details:
Saturday, September 24, 2016
Union Mine High School – 6530 Koki Lane, El Dorado
1K/2K/5K run/walk
9:00...

El Dorado County Recognized for Endeavors in Early Childhood Education

00:00 AM - August 05, 2016

Written by EDCOE Leadership and Communications Intern Hannah Van Vleet


EDCOE is pleased to announce that First 5 El Dorado's Executive Director Kathleen Guerrero and El Dorado County Child Care and Education Planning Council's Coordinator Elizabeth Blakemore were recognized by State Superintendent of Public Instruction Tom Torlakson for their work with the Race to the Top—Early Learning Challenge Grant. The Race to the Top—Early Learning Challenge (RTT-ELC) supports states'...

Death Ride Challenges R.O.P. Students

00:00 AM - August 04, 2016

Written by EDCOE Leadership and Communications Intern Tyler Marchini

This July, four students and three staff members tackled the infamous 129-mile Death Ride and represented their school – the EDCOE Rite of Passage (R.O.P.) Charter High School located in Minden, Nevada. Rite of Passage didn't leave their contributions on the race track, as student volunteers encouraged riders and filled water bottles at a water station.

Sponsored by the Alpine County Chamber of Commerce, the Death Ride...

El Dorado County Teacher Credential Program - EDCOE to Host Informational Meetings

00:00 AM - August 04, 2016

In partnership with Brandman University, EDCOE is offering a flexible, local teacher credential program. Those interested are invited to attend one of four informational meetings to learn about program requirements and costs.

Meeting Details:

Dates: Monday, Aug. 8; Wednesday, Aug. 24; Thursday, Sept. 8; Wednesday, Sept. 28
Time: 4:30 – 5:30 p.m.
Location: EDCOE – 6767 Green Valley Rd., Placerville, Conf. Rm. D-4
Cost: Free-of-charge

RSVP to Stefany Gower at 530-295-2273 or sgower@edcoe.org

...

El Dorado County Welcomes Students and Parents Back to School

00:00 AM - August 02, 2016

The 2016-2017 school year is almost here, and educators are ready to welcome students back in the coming weeks. Students are ready to begin this year full of curiosity and excitement while educators are harnessing that energy to help each child become successful!

Throughout this website, you have access to information regarding a wide variety of services provided by EDCOE, and you can explore each school district here>>

Educational Services

Educational...

Open Enrollment Charter Alternative Programs

00:00 AM - July 21, 2016

Charter Home Study Academy

Learn more about Charter Home Study Academy at this informal gathering in the library at the Charles Brown Educational Center (6520 Oak Dell Road, El Dorado), August 4, at 6:00 p.m. This is a great opportunity to ask questions in a small group, make student assessment appointments and enroll for classes. We can't wait to meet you!

For more information about the program, click here >>

Charter Career Prep

Learn more about Charter...

Community Observatory's FREE Birthday Celebration – Saturday, August 13

00:00 AM - July 19, 2016

Written by EDCOE Leadership and Communications Intern Tyler Marchini

The Community Observatory is turning 10 years old, and you're invited to a FREE overnight party on Saturday, August 13, starting at 7 p.m. and ending on Sunday at 7 a.m.! Families and children will enjoy the Perseid meteor shower, partake in Milky Way Galaxy telescope viewing, have fun playing games, make birthday cards, crowns, and more. Jamba Juice will sell refreshments between 7 and 9...

Students Receive Excellence in Education Awards at the Fair

00:00 AM - June 20, 2016

At the end of every school year, the El Dorado County Office of Education (EDCOE) gives Excellence in Education Awards to students who have demonstrated their commitment to learning, becoming well-rounded, and giving back. More than 5,000 students received an award certificate and a complimentary pass to the El Dorado County Fair, where they received additional prizes and struck a pose in the photo booth. Individual schools determined criteria to recognize...

Proud Adult Students Achieve their High School Diplomas

00:00 AM - June 02, 2016

Twenty-four adult graduates received their diplomas at one of the most inspirational ceremonies in El Dorado County on Tuesday, May 31. The El Dorado County Office of Education (EDCOE) offers support and services to students of all ages, and the Adult Education Programs allow individuals to complete a variety of educational milestones that otherwise may have seemed out of reach. Principal Gary Sutherland oversees the Adult Education Programs and gave these words of encouragement, "We acknowledge you for a...