EDCOE Team Members are Shining Stars!
14:00 PM - May 08, 2023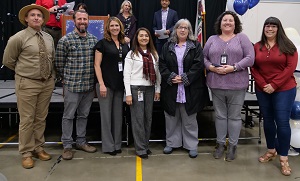 El Dorado County Office of Education (EDCOE) recently hosted a team member recognition awards ceremony to honor the outstanding achievements and contributions of its team members. Dr. Ed Manansala, the El Dorado County Superintendent of Schools, welcomed everyone to the event and said, "We are celebrating the shining stars among us - those who have consistently gone above and beyond in their work and have genuinely shone as exceptional team members. Each of you has brought your unique talents and skills to the table, and your hard work and dedication have helped our team achieve great success."
Dr. Manansala praised the team members for embodying EDCOE's core values of integrity, service, relationships, equity, and innovation, and thanked everyone for their exceptional efforts and accomplishments.
The ceremony began by recognizing EDCOE team members who have dedicated many years to their craft in El Dorado County and statewide. The longevity awards were presented to the team members who had completed ten, fifteen, twenty, twenty-five, thirty, and thirty-five years of service.
10 years
Adult Education: Cheryl Urbani Heinsma, Stacey Kesner, Zachary Qualls
Child Development: Laura Zuck, Kathleen McCullough, Patricia Gordon, Lupita Boswell
Geographic SELPA: Katherine Smiley
Rite of Passage: Russell Munyan
Special Services: Devon Donahue, Ann Dollarhide, Jared Parker, Jodi Perry, Amy Bennett, Mary Kohne, Melissa Todd, Jessica Edwards
15 years
Charter Alt. Programs: Brenda McComb, Danielle Pujol
Child Development: Natalie Moreno, Susan Kahn, Laura Drake, Martha Villanueva, Constance Darling
Rite of Passage: Russell DeWalt
Transportation: Katie Murphy
20 years
Charter Alt. Programs: Lori Scalaro
Child Development: Veronica Arechiga de Lopez
Communications: ean Fitzgerald
Special Services: Carrie Zade
Transportation: Christina Davis
25 years
Child Development: LeeAnn Winings
Special Services: Steven Howlett, Tracey Bird
30 years
Indian Education: James Marquez
Internal Accounting: Nancy Lawrence
Special Services: Catherine Fisher
35 years
Child Development: Brenda Higgins, Barbara Hoover
Retiring Team Members
Educational Services: Steven Scott
Foster Youth/SARB: Wendy Creel
Human Resources: LuAnn Lantsberger
Indian Education: James Marquez
Information Services: Armin Reese
Facilities, Maintenance & Operations: Peter Hull, Michael Rodriguez
Special Services: Katharine Czarnecki, Janet Gilmour, Mary Sheehan, Chris Belmer
Transportation: Janette Hartman, Valerie Keele
Each retiree was recognized for their dedicated service to EDCOE, and their contributions were acknowledged. Dr. Manansala thanked the retirees for their hard work, dedication, and loyalty to the organization and wished them all the best in their future endeavors.
Dr. Manansala concluded the event by acknowledging an EDCOE team, as well as two certificated and classified individuals, for their exemplary service. The winners were:
The EDCOE Special Services Team – watch the video here >>
Gigi Marchini, Director of Curriculum, Instruction and Accountability – read her full story here >>
Nisa Lyons, Program Assistant for External Business Services – read her full story here >>
The event was a great success, and the team members were truly honored and recognized for their achievements and contributions. The ceremony was a reminder of the hard work and dedication contributed by team members and the importance of recognizing their contributions to the organization.