Oak Ridge Students Shine at State Academic Competition
00:00 AM - April 08, 2021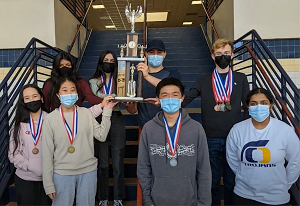 Oak Ridge High School's Academic Decathlon team claimed victory at this year's El Dorado County Academic Decathlon regional competition in February and advanced to the state competition held in March. The team joined Decathletes from across the state for a fierce week of competition. The California Academic Decathlon (CAD) State competition is historically held in-person in Sacramento, however due to the restrictions related to COVID-19, the decathletes participated in all ten events virtually via online platforms.
"It's an honor to be able to congratulate you on your great efforts and your great accomplishments in the statewide academic decathlon… This has been one of the toughest years that we've experienced as we work through the pandemic to maintain our safety, I believe probably one of the toughest experiences we will have to work through in our lifetime, but you doubled down in addition to maybe being in distance learning," expressed Tony Thurmond, California State Superintendent of Public Instruction. "To the decathletes, to your families, to your educators, to your administrators, we say to you congratulations. Thank you for being shining examples of what a California education can do. These skills will carry you far in your lifetime, and we are so proud of you. Congratulations decathletes!"
A unique aspect of the Academic Decathlon is that it is designed to include students of all academic abilities and achievement levels. Each team member competes against other students in their category (Honor, Scholastic, or Varsity) in ten events: Art, Economics, Essay, Interview, Language/Literature, Math, Music, Social Science, Science, and Speech.
This year's competition provided the opportunity for students to overcome not only the challenges of distance learning but also unique competition timelines and new testing platforms. "The Academic Decathlon teams faced enormous adversity this year with the COVID 19 pandemic. The Oak Ridge team met the adversity head on and did extremely well as a team at the state competition. They juggled their main studies, and managed the state competition throughout the month of March. Under normal circumstance the competition is done over a four day period of time," expressed Oak Ridge Academic Decathlon Coach, Jeff Hassian. "I am so proud of this team for giving their best efforts when it would have been easy to pack it in. The support we received from El Dorado County Office of Education, El Dorado Union High School District, and the support of our Principal Aaron Palm demonstrates the commitment they all make to our students. This would not be possible without all of these entities working together. This team really demonstrated their true grit that will last them a lifetime."
Timothy Studebaker received several awards and noted, "The Academic Decathlon competition has played a vital role in my middle school and high school experience. I have completed for five straight years and it offered me and my fellow decathletes the chance to gain new skills and experiences. The culmination of my Aca Deca journey brought me to this year, in tandem with the challenges facing us all with the Covid-19 pandemic. With my amazing Co-Captain, Adam Hurst, beside me, the entire Oak Ridge team was ready and excited for what opportunities might lie ahead. I am proud of the entire Oak Ridge team winning 11 medals at State after securing a win at the county level for the 5th straight year. It has been a marvelous and fun ride with Mr. Hassian right beside us leading us to victory and I look forward to watching what honors future decathletes bring to Oak Ridge High School."
During the state competition awards ceremony held virtually in March, Dr. Ed Manansala, El Dorado County Superintendent of Schools shared, "On behalf of the 58 county superintendents of California, welcome to the state competition. You made it! All of the coaches volunteers and families of our decathletes - this would not be possible without you. Decathletes stand proud and tall as your resilience and dedication radiates. You exemplify excellence in academia especially during these unimaginable times. You will remember this experience for the rest of your life. Celebrate your achievement! Congratulations to all of the decathletes!"
El Dorado County Decathletes took home 11 individual state medals!
Highest Individual Scoring Student, Division 2, Varsity – Timothy Studebaker
Highest Individual Scoring Student, Team – Aleena Rafiq
Art – Timothy Studebaker, Varsity Gold
Literature – Saumya Chandra, Scholastic Gold
Literature – Timothy Studebaker, Varsity Silver
Math – Timothy Studebaker, Varsity Gold
Music – Saumya Chandra, Scholastic Bronze
Science – Adam Hurst, Honor Silver
Science – Aleena Rafiq, Honor Bronze
Science – Saumya Chandra, Scholastic Bronze
Science – Timothy Studebaker, Varsity Gold
Congratulations to Oak Ridge High School Decathletes and Coach Jeff Hassian!