Students Discover the Arts and Themselves at Sugarloaf Fine Arts Camp
00:00 AM - July 27, 2017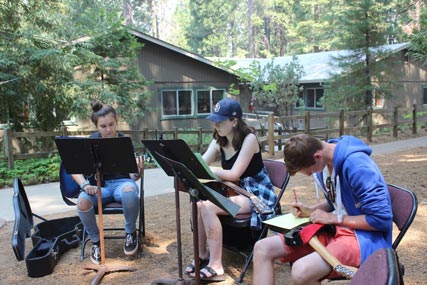 Written by EDCOE Leadership & Communications Intern Kaitlyn Fly
This year, Sugarloaf Fine Arts Camp was home to over 200 campers who traded their phone, tablet, and TV for instruments, cameras, and paintbrushes. For one week, campers explored the arts and enjoyed the surrounding environment of fresh air and pine trees. Campers, ranging from sixth to twelfth grade, spent an average of three and a half hours a day in their major subjects and a little over an hour a day with their elective selections. The remainder of the day was spent attending camp-wide assemblies, campfires and structured downtime with a range of possible activities. Campers are supervised and supported by camp staff and counselors.
"We run this program to give students the opportunity to explore their interest in the arts. Campers realize what art can do for them, and how it makes them feel and grow," said Brian Dezzani, Director of Sugarloaf Session 2, "Art and instruction are the reason people are here, but Sugarloaf is much more than that. The community provides the opportunity for campers to establish themselves as individuals. They can grow and really find who they are."
Sugarloaf's staff come from all over the country to spend a week with the campers. Much of the staff have been working at Sugarloaf for many years, even taking time off work to come to camp. "It shows that people make this a priority, and they want to come back every year," said Laura Herriot, Camp Secretary.
Lindsey Thomas attended Sugarloaf for the maximum of seven years as a camper and has returned this year for her third year as a staff member. When asked why she chose to return to Sugarloaf as a counselor, Ms. Thomas said, "It's cool to help guide young minds and train them to be themselves. It's nice having a technology-free space where people can be creative and be unapologetically themselves."
Fellow counselor, Stephanie Lemon, attended for two years as a camper and is currently in her fourth year as a counselor. Ms. Lemon explained that Sugarloaf is special to her because "It's a safe place and all my friends are here. There's a lot of love." Camp counselors work hard to provide a fun and supportive experience for campers throughout the week.
While acceptance into Sugarloaf is based on a lottery system, many campers find themselves returning year after year. Camper Kylie Balentine has been attending Sugarloaf for six years. When asked why she decided to come back each year, Ms. Balentine said, "I get to do what I love. I get to be creative and think outside the box… It really helped me come out of my shell." She added, "It's basically a big family of amazing people who get together and share their passions with each other… It's a magical place." Because it is the last year she can attend Sugarloaf, Ms. Balentine said, "I'm sad to be leaving but I'm hopeful for the future, and I can use what I learned here throughout my life."
Sugarloaf Fine Arts Camp occurs annually at the Sly Park Conservation and Education Center in Pollock Pines. The two week-long sessions run from middle to late July and feature different majors and electives during each session. Examples of majors are Music, Dance, Photography, Textile Arts, Theater, Visual Arts, and Vocal Arts. Available electives include Acoustic Guitar, Crafts, Musical Theater, Playwriting, Tap, and Ukulele.
County Superintendent of Schools, Dr. Ed Manansala, attended the first of two final performances and noted, "Thank you to our team members, volunteers, donors, educators, Sugarloaf Station Foundation, Community Observatory, and Placerville Kiwanis Club for making this experience of a lifetime possible for our students."
For more information, please see the camp website.